Buy Lion Smile NEW Cool Fresh 12ml Japan Eye Drops
Eye drops for contact lens wearers, made with components that provide moisture and augment four of tears' most important functions. These eye drops provide intense, long-lasting cooling by giving users a "sub-zero" sensation when applied. Preservative-free.*
*There are no preservatives in this product (such as benzalkonium chloride or potassium sorbate)
Product directions and other info:
Indications
Discomfort when wearing soft or hard contact lenses; to replenish tears (dry eyes); eye fatigue; blurred vision (due to excess eye mucus, etc.)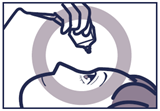 Directions and Dosage
Use 3 to 6 times a day, 1 to 3 drops in each eye.
Usage and Dosage Warnings
(1) When enabling youngsters to use the product, a guardian or carer should provide supervision and advice.

(2) It's best not to touch the dropper tip to your eye, eyelid, or eyelashes, as this could make it unclean or infected (with eye mucus, dust, etc.). If the product appears hazy, do not use it.

(3) Only use the product as an eye drop.
Ingredients (per 100 ml)
Active ingredient

Content
Chondroitin sulfate sodium (cornea protection ingredient)
0.25 g
Taurine (amino acid)
0.2 g
Potassium L-aspartate (amino acid)
0.1 g
Sodium chloride (mineral)
0.2 g
Povidone (moisturizer)
0.25 g
*Inactive ingredients: Trometamol, boric acid, borax, disodium edetate, propylene glycol, l-menthol, dl-camphor