Buy Authentic Mabox Vitamin C serum with Hyaluronic acid and vitamin E- 30ml
Product details of Authentic Mabox Vitamin C Face and Eye Serum with organic Hyaluronic acid and vitamin E for anti-aging wrinkles whitening 30ml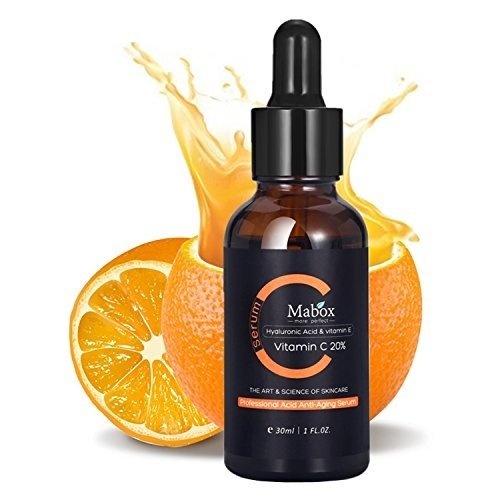 Vitamin C Serum Mabox Anti-Wrinkle Face Serum with Hyaluronic Acid and Vitamin E – Organic Anti-Aging Serum for Face and Eye Treatment (30ml)
Product Description
Product Benefits:
Vitamin C of Excellent Quality with a Potency of 20%
Vitamin C's Natural Antioxidants Can Help You Reduce the Appearance of Sun Spots
Increases the production of collagen
For a smoother, more vibrant appearance, reduce fine lines and wrinkles.
Skin Elasticity is Improved
Evens Skin Tone for a Complexion that is Brighter and More Radiant
Reduces Age-Related Skin Problems and Improves Skin Texture
Hydrates Dry, Dull Skin by Moisturizing Deeply
Directions:
Wash your face with a mild cleanser and warm water. Leave skin damp. Apply the vitamin C serum to your face and neck with your fingertips. Gently massage the serum into the skin.
Wait for it to dry, apply your normal moisturizer, repeat the process twice a day (morning & night).
Feature:
Reduce fine lines and wrinkles by stimulating collagen production.
For a more radiant and youthful appearance, brighten and smooth the skin.
Acne scars were reduced, pores were reduced, acne was cleared, breakouts were prevented, and the appearance of acne scars was reduced.
No parabens, alcohol, or animal testing are used, and only the best plant-based ingredients are used.
Sun damage is prevented and reversed by powerful antioxidants that neutralize free radicals and diminish sun spots and discolouration.