Product details of Authentic Korea Nature SC Bee Propolis Honey Ample light Whitening Anti-aging Wrinkle prevention Face and Eye Serum 15ml
It is an ample which contains honey extract. It gives moisturizing abilities on skin, prevents dryness and helps to manage as moist skin. Also, it improves the condition of skin and manages healthily with royal jelly extract, propolis extract and etc because they stimulate the circulation of a cycle on skin.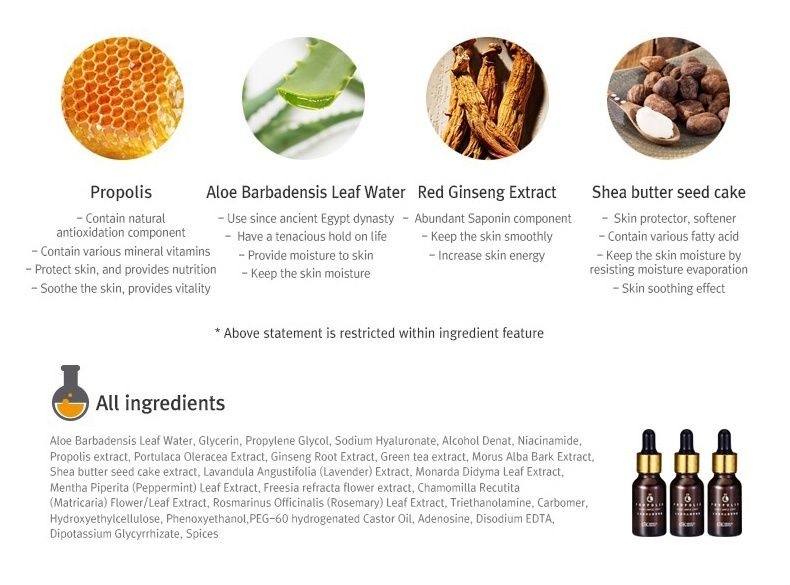 FEATURES:
1. Moisture
2. Shining
3. Elasticity
4. Soothing
5. Skin Tone
6. Dead Skin
INGREDIENTS:
Propolis: Contain Natural Antioxidation Component. – Contain Various Mineral Vitamins – Protects skin and provides nutrition – Soothe the skin, Provides vitality.
Aloe Barbadensis Leaf Water – Use since ancient egypt dynasty _ Have tenacious hold on life – Provides moisture to skin – Keep the skin moisture
Red Ginseng Extract – Abundant Saponin Component – Keep the skin smooth – Increase Skin Energy – Dark spot eraser
Shea Butter Seed Cake – Skin protector, softener – Contain various fatty acid -Keeps the skin moisture by resisting moisture evaporation -Skin soothing effect